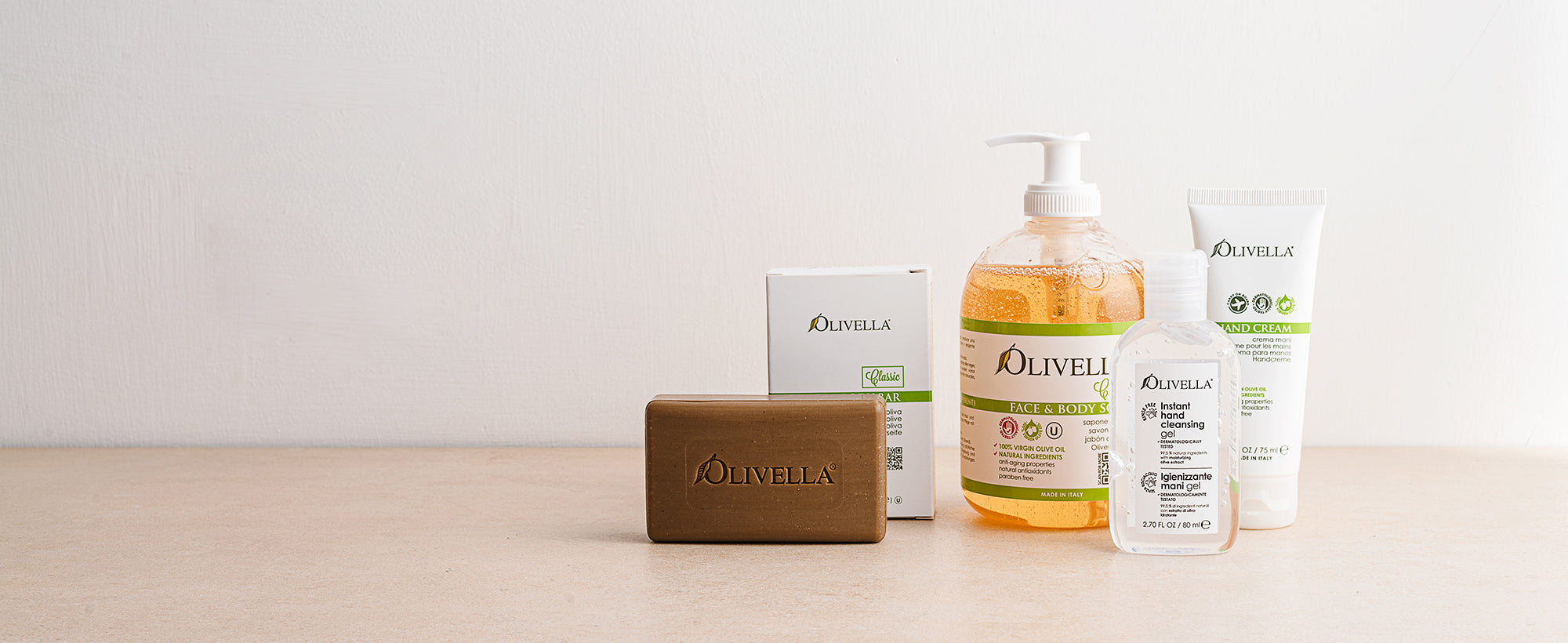 OLIVE OIL FOR SKIN: Olivella® tells you all the secrets
When you think of olive oil, perhaps the first thing that comes to your mind is cooking. However, olive oil has come a long way in recent years and is known for a lot more than our healthy diet, but also for our skin and hair. This is why Olivella® has chosen "The Mediterranean Diet for your Skin" as its slogan.
All  Olivella® skin care line was developed around one main ingredient: Ultra Purified Virgin Olive Oil. In this article, we share with you all the secret benefits of using olive oil derived skincare products your skin.
The Benefits of Olive Oil for your Skin
 1. It is rich in vitamins
Olives are high in vitamins D, A, K, and E; therefore, they can aid to reduce oxidative stress on the skin, which leads to skin ageing. Vitamin E-rich oils have long been used to treat skin disorders like psoriasis and eczema.
 2. It works as an antioxidant
Virgin olive oil protects your skin cells from environmental damages such as wind, pollutants and harmful sun rays. This is due to its high content in polyphenols which have antioxidant and anti-aging properties and help prevent premature ageing cells.
 3. It is a great skin moisturizer
Virgin olive oil has outstanding moisturizing and nourishing properties to hydrate the skin of both the face and body. Its high vitamin content makes it a fantastic product to protect (particularly in winter) and nourish even the most sensitive skin!

There are many differences between olive oil for cooking and products designed and formulated with olive oil. We always suggest to use olive oil only in products that were dermatologically tested.. and leave the Extra Virgin Olive Oil bottle for your salad !
How to use olive oil on your skin?
Olivella® offers a wide range of products from virgin olive oil to tackle different issues.
Anti-ageing and Brightening:
Olivella® Counter Clock Hyaluronic Acid Face Serum has recently been a best-seller! It contains a blend of biomimetic peptides which encourages cellular regeneration, making the skin feel and look younger in only 4 weeks as well as reducing scars and sun damage. The power of the olive tree in this product is all in the olive leaf extract rich in polyphenols. 


Anti-wrinkle:
Thanks to the olive oil-based emulsion, Olivella® Anti-wrinkle face cream helps to smooth the skin and performs as an antioxidant, with a significant change in the dull, inelastic and dry appearance. The synergy between hyaluronic acid and acetyl hexapeptide-8 significantly reduces wrinkles and the pores are also drastically minimized. Additionally, the contours become more defined.
Anti-stretch marks:
Olivella® virgin olive oil enriched with sweet almond oil and natural essences is an emollient, nourishing and elasticizing product. If used regularly, it helps to prevent and smooth stretch marks during pregnancy and during sudden changes in weight.
Skin Moisturizer:
The moisturizing effect comes from virgin olive oil properties, therefore it can be found in all Olivella® products. However, if you are looking to target dehydrated skin, Olivella® Body Lotion, Nourishment cream and Moisturizer Oil are your best bet!
Hair treatment:
Olive oil has several benefits for hair, used both internally and externally. It contains omega-3 and omega-6 fatty acids and antioxidants that help keep your scalp's skin cells healthy. Olive oil also coats the hair shaft to make each strand smooth and shiny. Olivella® Olive Oil Shampoo is suitable for cleaning all types of hair: dry, damaged, straight, greasy, curly, or color-treated.
Olivella® Secrets
Virgin olive oil, like the one used in Olivella®, can be used as a night moisturizer following other treatments or serums that are already part of  your skin care routine. Simply use three drops of oil on your hands, warm it up by scrubbing your hands together, then gently massage it onto your face. Conversely, you can mix a few drops into your existing night cream for extra skin nourishment. This should be the last step of your night routine.
Another tip is mixing our Face & body Tea Tree Soap with our Moisturizer Oil. It creates a white milky solution which is great to use as a face mask. Simply mix 3 big pumps of the tea tree soap with 2 drops of Moisturizer Oil in a petri dish. Using these products has a double effect of reducing acne prone skin and keeping moisture. Keep the solution for as long as you want and rinse with slightly warm water.
Virgin olive oil can also be used as a hair mask, by applying a few drops and leaving it on for 10 minutes before shampoo wash. This repairs the hair from external damages as well as improves suppleness and shine of your hair.
Lastly, our ultimate secret to a radiant complexion is to use our Moisturizer Oil as a base for your make-up foundation. This enhances your natural-looking glow as it does not leave greasy residue or clog pores, but instead, achieves a naturally glistering effect.
Yes..Virgin olive oil has many good properties and benefits for the skin when used correctly, always use Olivella® products which are formulated in a lab and dermatologically tested.
Now it's up to you to try them all!